Deanne Rose Named Canadian U17 Female Player of the Year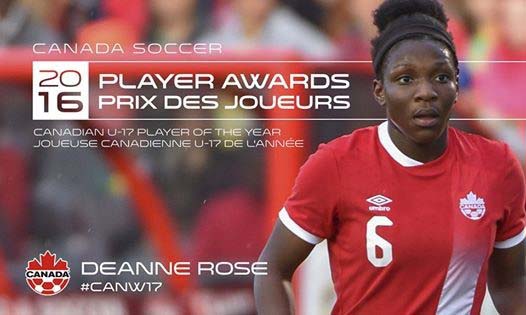 She plays for Scarborough GS United.
Deanne Rose was a member of three National Teams in 2016 – the Women's U-17, U-20 and National Team. As the youngest member of the Olympic bronze medal winning team in 2016, she scored a goal and an assist in the winning match against host Brazil. In all, she scored four goals and three assists in 16 international matches, helping Canada post a record 15 wins over the course of the calendar year. She also won her first CONCACAF medal, a silver at the CONCACAF Women's Olympic Qualifying Tournament.
At the club level, she helped Scarborough GS United win their fourth-straight Ontario Cup title, scoring one goal in the championship final. At the national youth level, she scored one goal and one assist in seven matches, including matches at both the FIFA U-17 Women's World Cup Jordan 2016 and FIFA U-20 Women's World Cup Papua New Guinea 2016.
"This award caps off a fantastic 2016 for the youngest goalscorer in Olympic history", said John Herdman, Canada Soccer's Women's National Team Head Coach. "Her international journey has only just begun and I am certain that she will be delivering many more great memories for Canadians in the years to come."